About Alessandra von Haus Wisen Baker
Bred in Germany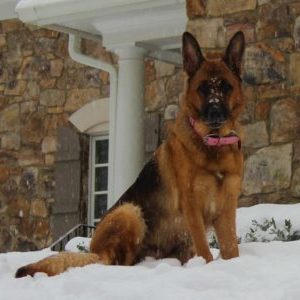 She has the largest bone structure imaginable, 95 bs, a very large and powerful female
Alessandra is a certified medical alert service dog and lives inside the home with our family and other dogs
DM clear – both normal/normal result, hips/elbows certified excellent. DNA registered.
Her both parents and aunts on both sides are highest level IPO3, also grandparents including females to be highest level SCH2/IPO3, all world grandchampions pedigree in all generations, legally certified hips/elbows in all generations
All German standard level breeding meaning all dogs in over 50 generations pedigree have working titles IPO/SCH, legal breed survey KKL as especially recommended for breeding which includes hips certifications free of dysplasia and endurance test, top show rated including on world level
Her father is a Celebrity VA BSZS World GrandChampion Willas showed highest bite work score possible 5-5 at latest World Sieger show
He has amazing mahogany red color and huge masculine head – best combination of lines: the father – #3 SG3 BSZS male in the world, multiple Whole Europe Sieger Show GrandChampion V1 LSZS Tyson, grandfathers legends World GrandChampions Zamp and Quenn; World GrandChampions VA BSZS in every generation, not only males but also females: Quali, Orbit, Yasko, Dux, Quantum, Ursus….too many to list
His sister littermate is also World GrandChampion of 2014 and 2015 – VA BSZS Walerry
Her mother, Athina, is an exceptional show dog and has competed in Regional Whole Europe Sieger show LSZS in Germany. Athina is V LGZS (regional whole Europe Sieger show in Germany)
Athina is the daughter of World GrandChampion VA BSZS Kwantum Klostermoor, granddaughter of World GrandChampion VA BSZS Zamp and the #29 female in the World, SG29 BSZS, V Pirka vom Huhnegrab – daughter of World GrandChampion VA BSZS Orbit
Athina has mahogany red color; very big bone; very big head, extra thick coat
Click on a photo below to view full size.