The Von Haus Wisen Baker Story
The Beginning:
My first German Shepherd Puppy…the best Christmas gift a 4-year-old can dream of. A few years later my first German Shepherd Dog (GSD), Moby-Dick, had grown up. He had the strongest protection performance I have ever seen — the result of selective breeding between an Eastern Europe police GSD male and a West German show line police GSD female.
We started registering our dogs in FCI regulated dog clubs in 1986. Von Haus Wisen Baker kennel name was registered with USCA in the United States. We became members of UScA and SV in Germany in 2002. We started registering our top of the line dogs with AKC in 2001. We are awarded by AKC with the certificate of Bred with H.E.A.R.T. program – Health, Education, Accountability, Responsibility and Tradition.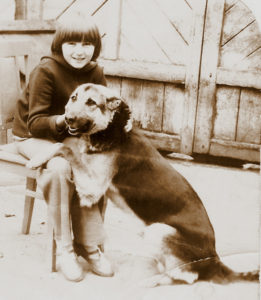 Breeding with Champions
We breed based off of the most famous celebrity blood lines such as VA BSZS World Grand Champions. A few recent examples include:
We Train with the Best
We train and prepare our dogs for trials to obtain Schutzhund/IPO/IGP titles, breed surveys, and do show ring training on a regular basis in SV clubs located in Germany.
Our first trainer in Schutzhund work (scent tracking, personal protection, advanced off leash obedience), is managing two SV Schutzhund clubs in Germany. He is also our handler of protection performance part at National and World Sieger shows, and has more than 40 years of experience as a trainer and breeder. He came to show lines from working line dogs and set a goal to breed show lines that are capable of personal protection work level performance no less than top working line dogs.
He trains, titles, does korung, and handles dogs in scent tracking, personal protection, and off leash advanced obedience work for several SV judges. He has worked with and trained many top placed dogs. This is a list of a few:
Cody Angelbaum SG7 BSZS, VA1 Mexico, SCHH3, KKL1
Xenia Angelbaum V40 BSZS, SCHH3, IP3, KKL1
Vera Angelbaum V4 USA, SCHH3, KKL1
Tamara Huhnegrab SG23 BSZS, SCHH3, IP3, KKL1
Matz Huhnegrab SG19 BSZS SCHH2, KKL1
Veneze Chaos VA2 British Vice Sieger, SCHH2, KKL1
Our Second trainer works as a helper in four clubs in Germany; he has more than 30 years of experience in Schutzhund, training, titling dogs, and as a helper. He also did helper work with many top BSZS – Federal World Sieger Show placed dogs.
Our Third trainer has more than 30 years of experience as a trainer, helper and show handler. He contributed tremendously towards the entire GSD breeding program history. Here's a list of a few of the very famous dogs he prepared for protection work:
Zamb Wienerau, World Sieger VA1 BSZS, SCHH3, KKL1
Tyson Kottersbusch SG3 BSZS, V1, SCHH3, KKL1
Odin Hirschel VA4 BSZS, VA1 Belgium, SCHH3, KKL1
Hans Falcon Von Blauen Bergen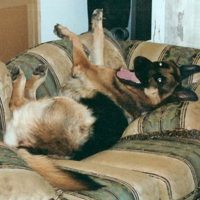 Rainbow bridge, a dedication to our bodyguard and our friend, Hans Falcon Von Blauen Bergen
Visit Rainbow Bridge to honor our beloved Hans.