About D' Shakira von Haus Wisen Baker
Shakira is out of ABSOLUTELY THE HIGHEST LEVEL OF BREEDING POSSIBLE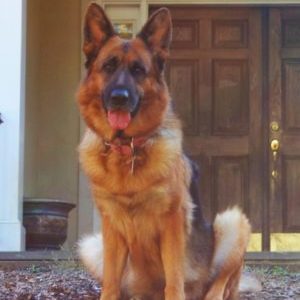 Her father is #1 ranked female in the world, 2 years in a row, 4 years in a row grandchampion of the world – VA BSZS Ballack Von Der Brucknerallee; plus all the highest IPO3 level strong female side – mother, aunt, and cousins! All VA BSZS world grandchampions on both sides of pedigree in all generations!
Shakira is a certified medical alert service dog and lives inside the home with our family and other dogs
DM clear – both normal/normal result, hips/elbows certified excellent. DNA registered.
Shakira's father Ballack Brucknerallee is bright star, World Grandchampion VA BSZS 4 years in a row, VA1 2015 and just newly crowned VA1 BSZS 2016! ; son of World champion VA BSZS Figo, grandson of world champions VA BSZS Furbo, Erasmus, Hill.
Shakira's mother is our stunning Gretchen Eva – Top V rated in several regional Whole Europe Sieger LG shows in Germany, all World GrandChampions pedigree! At her latest and last of her show career show – whole Europe regional Sieger – Landesgruppen-Zuchtschau LG 18/ 2013 LGZS D-Rochlitz e.V. Sachsen 14.07.2013 we are so proud to announce her stunning success: she finished in front of such high placed dogs at previous year World Sieger show BSZS as V16 BSZS Hisoka Agrigento, SG79 Zafira Fichtenschlag and few others with high V BSZS places
Gretchen Eva is a super producer, her puppies have very nice structure and movement, dark face mask, deepest richest mahogany red/black color, very good drive
Super breeding between VA Ronaldo vom Zellergrund, male with the highest level of pedigree in whole Sieger history and super producing foundation female Victoria von Fuerstenberg; Gretchen Eva is granddaughter of twice World GrandChampion VA1 BSZS Larus and also on her mother side she comes from World GrandChampions VA1 BSZS Jeck Noricum and VA1 BSZS Visum Arminius lines
Click on a photo below to view full size.