About I'Libby
I'Libby is a stunning dark sable, WORKING LINE German Shepherd!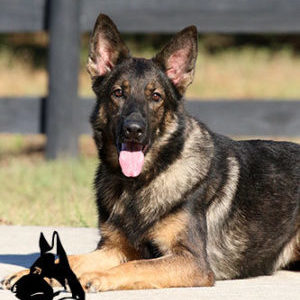 Excellent hips and elbows, OFA certified. OFA DM certified negative, both genes Normal/Normal.
Her impressive pedigree of working dogs:
The mother to I'Libby (Prima Eqidius) was bred to the sire (Elan Eqidius) while in Slovakia. She then arrived to the USA where this litter was whelped.
The sire, Elan Eqidius, is a phenomenal male with enormous structure and size. He is a large male with a big blocky head and great work ethic. Elan is the full package when it comes to working line males. He loves to work but is equally great with the family and in the house. It is from his temperament that we are most excited about this breeding.
Elan Eqidius is also a very well bred male who is out the Universal Sieger male Zastin Eqidius who is titled in IPO3, SCHH3 & FH2. The mother to this litter is a stunning bi-color female named Prima Eqidius. Prima is titles in SVV1 and she is absolutely stunning with solid work ethic and temperament.
Prima comes from a very strong working line. Her father is V rated Drago Eqidius who is titled in IPO3, SVV1, SCHH3 and KKl. Drago is a phenomenal working male and known for producing dogs with good genetics and size. Prima's mother is also one of best working line females named Veronika Eqidius who is titled in IPO3, FH2, SVV1 and KKL.
Click on a photo below to view full size.